BUFFALO NY NEWBORN PHOTOGRAPHERS
CONTACT US TO BOOK YOUR NEWBORN SESSION TODAY!
Phone: 716.348.8701
portraitprettybuffalo@gmail.com
They are only little once.  Cherish this special time and freeze it by capturing these special moments with newborn photography.  You new baby will grow each and every day.  Portrait Pretty Photography is Buffalo NY Newborn Photographers who specializes in newborn portraiture.  We are able to create one of kind statement portraits to capture these timeless moments.  Our by appointment only commercial studio is located in Buffalo NY, conveniently and centrally  located with easy access to the 90 as well as the 190.  Our studio is not a home based studio, and is located by the waterfront where we can take a quick drive to do an outdoor scene.  Portrait Pretty Photography specializes in newborn photography.  We consider ourselves as one of the few experts in WNY.  Our goal is to present you with the most one of a kind images that your family can enjoy for years from now as these are timeless.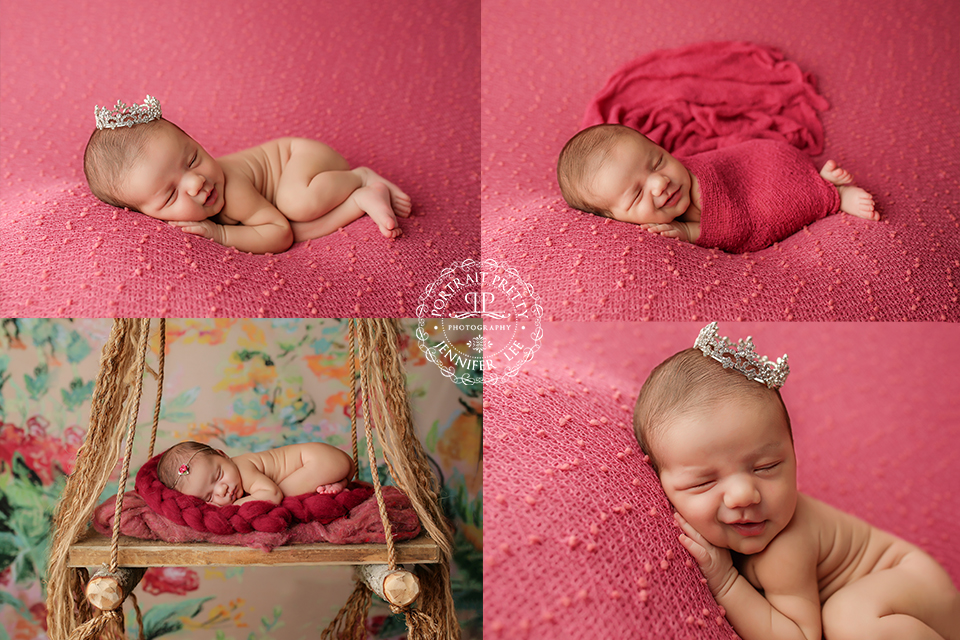 PIN THIS IMAGE
NEWBORN SAFETY
The safety of our little newborn clients is our number one priority.  We are highly trained in newborn safety, are up to date on our shots and we are have infant CPR certification.  Not all newborns can do every pose.  Each baby is very different, when working with newborns we can get a feel for what we are able to do with the newborn safely and which pose we may possibly skip.  We have a very strict posing workflow, while we transition from pose to pose in a certain way, we do understand the newborn may not be able to do a certain pose and since we would never put your newborn in an uncomfortable position for them we move onto the next pose in our workflow.  
Besides our posing workflow there are many props we utilize like this dream catcher for example are done via composite.  For example this newborn was not hanging on a branch.  People always ask me how we do that shot, and it's simple, we photograph several images (for newborn safety) and merge them together.  For a lot of photographers it is time consuming but, we just love this statement piece so we really do not mind at all.  
Besides the physical aspects of newborn safety there are the digital.  You will see as you look for photographers a lot of photographers tag the images of the newborn to the parents to help market their business.  I never ever tag parents in anything I post – ever.  Why?  I do not want a digital trail of your newborn baby from any of my business pages to your personal social media page.  Even though this hurts me marketing wise, it is just not worth the risk to expose your child on the internet like that.  This day and age you never know who is looking, who is watching and what is lurking around the corner.  Therefore anyone who sees this beautiful baby, only sees a beautiful baby.  They have no idea who's baby that is.  And I like to keep it that way.  Safe and sound.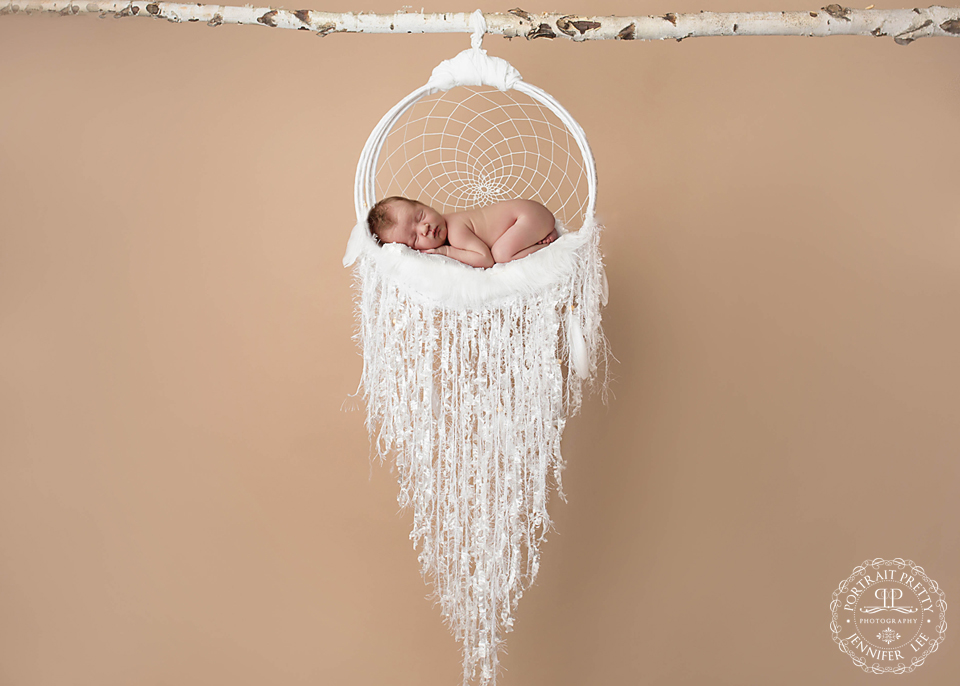 PIN THIS IMAGENEWBORN EDITING
The style of our editing is very clean.  We do not over accentuate shadows, as much as we love shadows, we also like to be able see the face of the newborn in our newborn photography.  Highly shadowed images do not print well, they look very dark.  If you want your portrait to stand out from the wall it is best to go with a clean edit.  The tones we use are on the soft and airy side.  We love pastels.
Here you will see some of our editing for newborn photography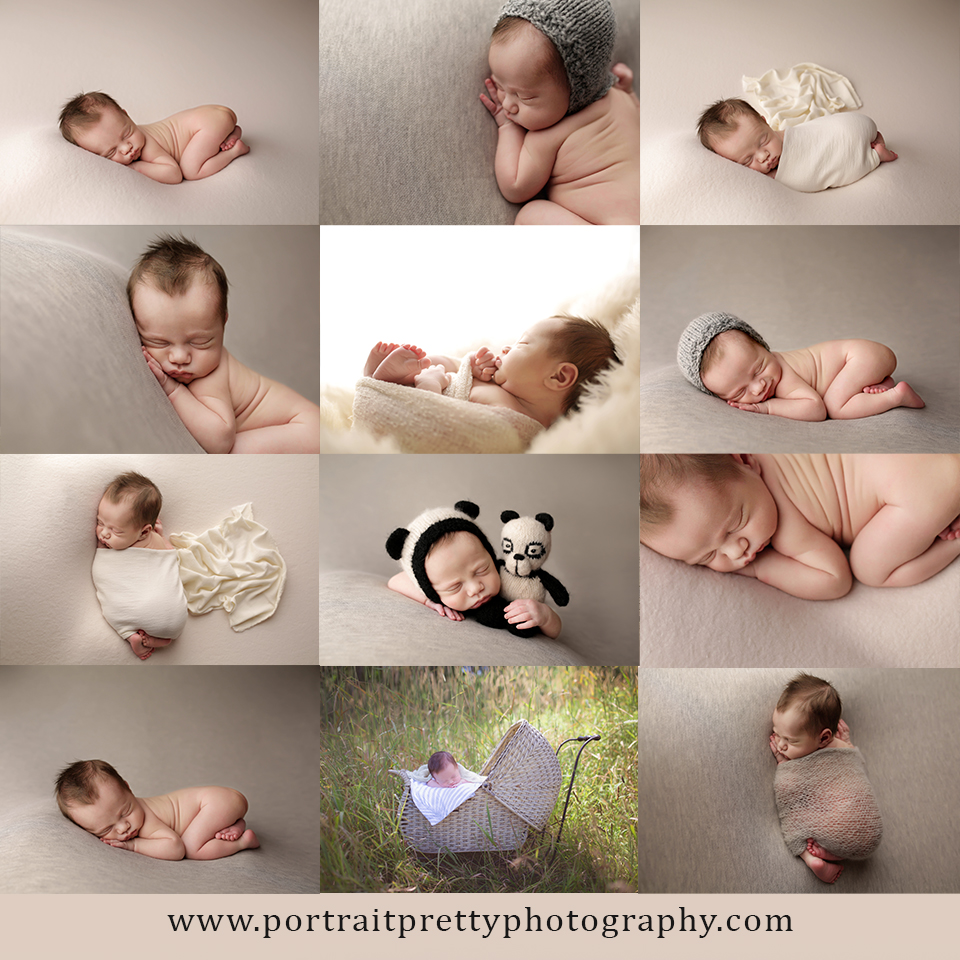 PIN THIS IMAGE
Custom Newborn Photography Experience
Every newborn session is completely customized to the client.  If you have something special you would like to bring feel free to do so.  If there is a particular theme or color scheme that you like, please let us know that as well.  
NEWBORN PHOTOGRAPHY FAQS
When should we take newborn photos?
Ideally, newborn sessions should be held the first 7-14 days of life.  Anything longer than 3 weeks (depending on the gestational age as well) we suggest waiting for the 3 month milestone.  Scheduling during the first 14 days of life is the time when the newborn is the sleepiest and they can get nice and curly into those poses parents oh so love and adore.  
How long are newborn photography sessions?
Newborn portrait sessions average 3 – 4 hours.  Depending on the package that was booked as well.  We take many breaks for feedings and any clean ups that need to be done.  When you come to the studio everything will be all set up and ready to go, so that saves on time as well.
Do I bring my own props or do you have them?
We have everything.  All the props, blankets, outfits, headbands, backdrops we own them all.  To give you an idea of props we have please look at our extensive newborn portfolio.  Here is a list of some of some of the most high demand props we own for newborn photography.  
Wraps

Outfits

Dream Catcher

Several Wood Swings

Huck Fin Boat
Antique Bed

Log Bed

Many Baskets

Many Bowls

Flokati rugs

Antique Pram
Garden Bed
A week prior to your session you will receive a prep guide that you will use to prepare for the session. If you would like to read more about it, please follow the link to the newborn prep guide located here.  
How long does the editing take?  
Editing a newborn session takes 2 – 3 weeks.  This includes all retouching of jaundice, baby acne, redness, rashes, etc.  The skin will look perfect.  
How many images will I receive?
Each session is different.  If you booked a session that includes all the images you will receive 30 – 60 images.  There is a huge range as it really depends on the baby.
How Do I book?
Book your session today by contacting our studio manager at 716.348.8701 or portraitprettybuffalo@gmail.com
To see more newborn photography click on this link to go to our newborn portfolio page.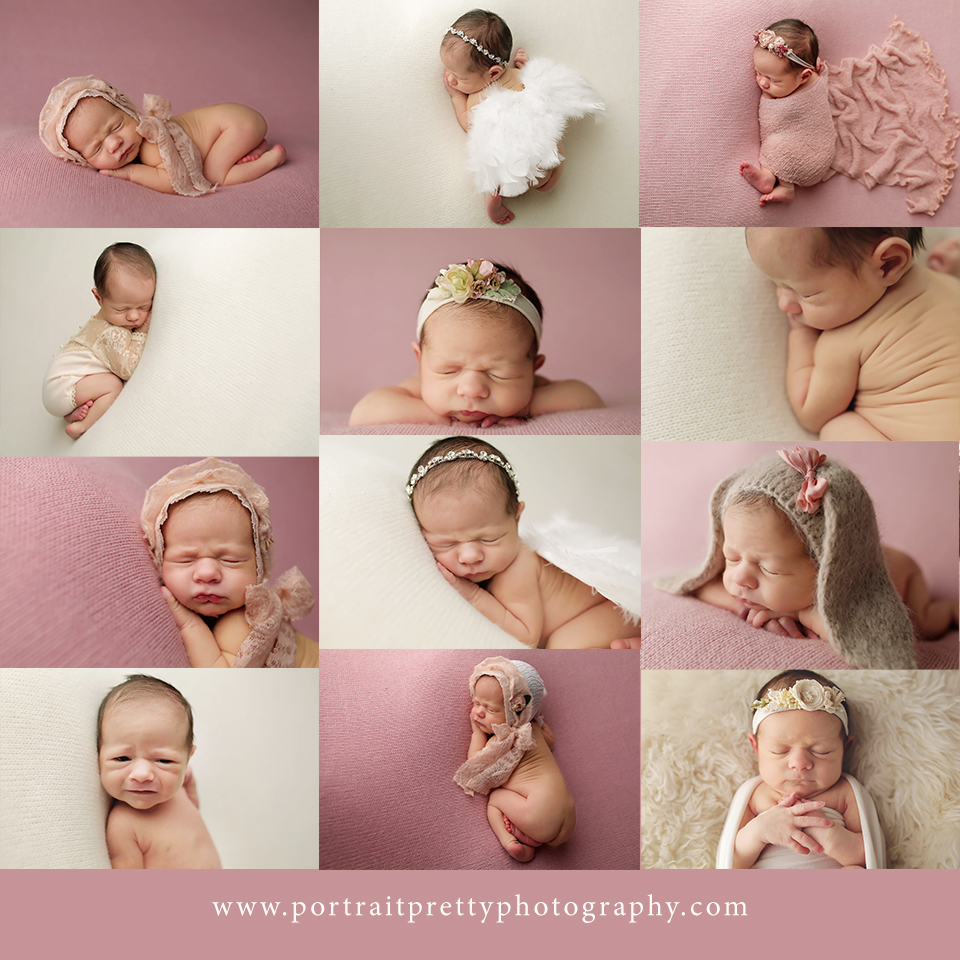 PIN THIS IMAGE