This newborn studio prep guide is not a general one-size-fits all newborn prep guide.  Please note, this guide is exclusively intended for Portrait Pretty Photography's clients and how they can best prepare and what they can expect at their newborn session with us.  Photographers – do not copy, print, screenshot, share in social media or download, this guide is protected by copyright and this guide is intended for Portrait Pretty Photography clients only.
1.  After Delivery, Schedule the Date – From this newborn photography prep guide, the most important step you can take when it comes to taking portraits of your newborn baby is scheduling a time to do so.  Call or text your Buffalo Newborn Photographer as soon as you can.  Having a newborn places many new demands on your schedule, however it is important to understand that your baby will change daily during the first few weeks of life. This is why it is so important to schedule your appointment as soon as possible. Photographing newborns within the first seven days – 14 days offers the ability to take advantage of your baby's natural sleep patterns. During the first few weeks of life, babies sleep more and are therefore are best for a photography session. They are more easily posed and enjoy curling up. After this stage, babies begin to become more aware and enjoy stretching out, making it more difficult to get certain poses. After 14 days, it is more difficult to get babies into the deep sleep necessary to get some of the more signature poses and this is the time when colic can set in, making for a very fussy baby. This is why it is imperative to have your baby photographed as soon a possible. Not only will the session be shorter, you will be able to select from many more beautiful poses.
2.  Schedule the Time of the Session – Ideally, the baby should be sleeping while being photographed in order to allow me the opportunity to create those beautiful poses you love and adore.  Typically newborns are the sleepiest in the morning so I try to schedule the session around 8:30 – 9:00 am.
3.  Breastfeeding Moms – For babies who are breastfeeding, the mother's diet is the baby's diet. Starting, 48 hours prior to the session it is important to follow the breastfeeding guide that eliminated foods and drinks that are likely to cause upset tummies for babies. Not only does this help prevent unnecessary spitting up, but it also reduces gas, diarrhea, and stomach discomfort, which can cause an unhappy baby.  Caffeine can cause babies to be more alert and jumpy than babies who have not been exposed to it in breastmilk, please avoid.
4.  10 – 12 Hours Prior to Session – In the hours leading up to the session, it is very important to feed your baby as frequently as possible to ensure his or her tummy is full. This will not only keep your baby from being fussy due to being hungry, but will also allow him or her to enjoy a long, peaceful sleep, which is perfect for picture taking.
5.  What do Moms Wear? – Keep it simple. Portraits of mom and baby where there is skin on skin contact are beautiful. If you want to have portraits done like this, wear a dark colored tank top or cream colored. This will not only allow for skin on skin contact, but provide the perfect amount of contrast in the picture. For those who are more self conscious, wearing a form fitting long sleeve knit shirt in dark brown, gray or cream will also work well. Moms, pamper yourself with a new do, a manicure and/or professional makeup. You can get your eyelashes "done" but keep them natural or with mascara as sharp eyelashes look great in portraits.
6.  What do Dad's wear? – For men, one of the most important things you can do is to get a professional manicure, if not that is okay, clean, trim and file them up if you have a buffer, buff them. Your hands will be in a lot of pictures, so it's important to have them look their best. As for your attire, stick with a plain black knit shirt, like a t shirt, with no collar. Steer clear of button downs or anything with a logo on it as they will detract from the photo. If Mom is wearing a color other than black, then coordinate with her attire. For hand-only shots, it's important to wear a black, long sleeved knit shirt that fits snuggly around your arms and wrists.
7.  What to Bring For Baby? – Your baby should arrive to the session in loose fitting pajamas that button or zip all the way down. NO ONESIES.  The photography session can begin immediately this way, taking advantage of a sleeping baby. Undressing him or her can wake them up and loses valuable time. Loose fitting pajamas are best because they won't leave seam makes on your baby. Have a pacifier on hand, regardless of whether you plan to use one with your baby or not. Having a pacifier will help soothe your baby during the shoot and will help move the session along with minimal discomfort for the baby. Bring gas drops or gripe water.  Have plenty of diapers and formula on hand for mid-session feedings and diaper changes. I can supply everything else you may need.
8.  What to Bring For Yourselves? – Newborn photography sessions take a very long time, usually in the neighborhood of 2 – 4 hours. This means that having something to entertain yourselves with go a long way to passing the time, bring a laptop or iPad will help pass this time by. Also, bring snacks and drinks to keep your own hunger at bay.
9.  2-3 Hours Before the Session – In the hours immediately preceding the session, do not keep your baby awake like often suggested in photography blogs.  It is said that keeping your baby awake means that he or she will be sleeping during the session, however I have found this just stimulates the baby which is counter productive.  Like stated earlier in this prep guide feed your baby as much as possible to really fill up their bellies.  Change their diaper before putting in the car seat and simply keep to their sleep schedule.  They should arrive nice and sleepy and I can start the session right away, if they happen to be awake, you will feed them when you arrive and then I will start the session after the feeding.  If you normally bathe your newborn in the morning, feel free to do that otherwise please bathe the evening before, again no over stimulation.
10.  Arrival at the Studio – Follow the directions that were emailed to you when you booked your session. When you arrive at the studio, park in the garage so that the baby won't be startled by loud noises or cold winds. Then come into the studio and begin feeding him or her only if he/she is awake.
11.  Sibling – If you are planning to have sibling portraits done with your newborn I suggest that you and your spouse or a relative/friend bring two vehicles and we will do the sibling, family and parent portion first, so the sibling can be taken home.  It can be too much for small children to sit in an 85 degree studio, to keep things flowing as easy as possible I have found this works the best.
12.  Grandparents – If you opted to have Grandparents portraits done with your newborn I suggest that you bring two vehicles and we will do the family and parent portion first.  Too many people in the studio is distracting and can cause too much stress, so the Grandparents can be taken home.
What To Expect At Your Session 
1.  Studio Temperature – The studio will be kept warm since many of the photographs will be taken with your baby completely undressed. This means that the studio may be too warm for comfort for you. So dress appropriately for the session, keeping in mind that you will be in the studio for up to four hours.
2.  Studio Lighting – The lighting used in the studio is a soft diffused studio light that mimics natural lighting, which allows for better quality images even on days where the natural light is plentiful. I strive to produce the best quality images for my clients and will use both natural and artificial light sources to achieve this. If the weather is cooperative, I will be more than willing to take outdoor photos of parents with their babies.
3.  Studio Noise – In order to more closely replicate the environment your baby enjoyed while in your belly, the studio will have background noise playing at all times. Calming hushing noise will be playing in order to keep your baby calm and relaxed. It is important during these sessions to keep talking and noise to a minimum to prevent waking the baby.
4.  White glove treatment – Newborn skin is very sensitive, in an effort to again prevent startling and over stimulation you will notice I wear gloves during the session.
5.  Lavender essential oil – Starting an hour prior to your arrival I diffuse one drop of lavender essential order into the air and turn it off prior to your arrival, it is just enough to bring a nice calming scent into the air while not being over powerful.  I also place a drop on my wrists and rub them together.  This is the soft aroma you will notice upon your arrival.
6. Babies Run the Show – Keep in mind your baby will ultimately dictate how a session will proceed. If he or she is fussy, it is important not to react to it and stress because the baby will pick up on this and will become more agitated. Simply sit calmly and allow me to work with your baby. I have plenty of experience and infinite patience, so know that everything will be fine.  Please try not to hover over me as I am working, if you are breastfeeding, your newborn can smell you, this can stimulate them to want a feeding since they know their food source is close by.
7.  Safety First – It is important for you to know that there is the utmost importance placed on the safety of your baby. Poses will never be forced nor will any unsafe poses be used in any manner during your shoot. The studio is completely sanitized after every session and all linens used will be washed in free and clear detergent. I will not photograph your baby if I am sick or otherwise not able to photograph your child in a safe manner and will reschedule with you as soon as practical.  Throughout the session you will notice I take pictures of your baby in props with a scene not completely set up.  Do not worry, the bulk of my prop images especially the hanging ones are composites of 2 – 4 images and I set the remainder of the scene up after you leave.  This is so your newborn is safe at all times and no time is wasted during your session.
8.  Outdoor Scenes – Outdoor scenes are available if the weather permits it, and are done at the end of the session.
9.  After the Session – When the session is complete, I will need time to process the photographs and make the necessary edits in order to present you with the best images possible. It generally takes two weeks from the date of your session to be able to look at the proofs on your online gallery, so please be patient.
About the Author:  Jennifer Lee of Portrait Pretty Photography is a Buffalo Newborn Photographer whom specializes in newborn babies, families as well as high school senior portraiture.  To Book a session with Jennifer, please visit the contact us tab below and we look forward to working with you.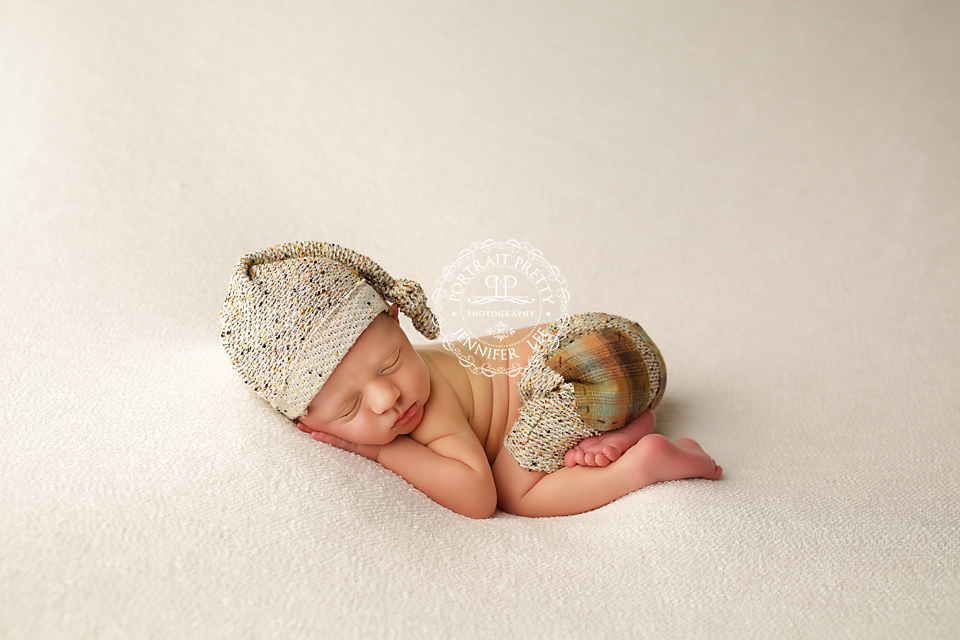 PIN THIS IMAGE